Investment is an important financial decision. It provides security. However, the type of investment you make is crucial. There's a new buzzword in the financial community. It's called farmland investment.
The YouTube video "Farmland Investing for Beginners 2023" describes it in detail. There are different types of investment options for farmland investing. As the video mentions, the most popular type is crowdfunding.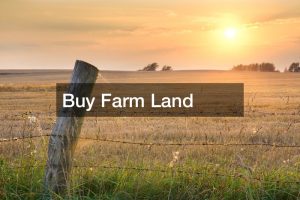 Buy Farm Land
Most people understand farmland investing as the purchase and management of a farm. While this is true, it isn't the only way to buy farm land. Let's take a quick look at the most basic type of investment. You purchase a farm and decide to manage the farm yourself. Or you hire a farmer. Alternatively, you could rent the farm to a farmer. Another option is crowdfunding. A group of investors come together and purchase a farm. A separate organization or farmer manages the farm for you. After all, expenses, the profits are divided by the investors or reinvested into another venture. A well-managed farm can be extremely profitable. In addition, the type of farming will determine how profitable the farm is. For example, garlic and lavender farms are the most profitable. Similarly, dairy farming is also very profitable.